Chris Brown Ordered to Return to Rehab for 3 Months
After throwing a rock through his mom's car window at the last one.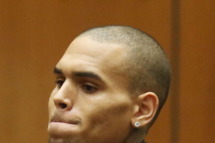 When we last heard from Chris Brown, he had voluntarily entered rehab "to gain focus and insight into his past and recent behavior." Instead he ended a joint counseling session with his mother by throwing a rock through her car window. Since Brown had agreed to refrain from violence while in treatment, he was promptly "released" from the facility. Unsurprisingly, the court wasn't pleased. The Associated Press reports that on Wednesday, Superior Court Judge James Brandlin ordered Brown to spend three months in another residential treatment facility, submit to drug testing, and perform 24 hours of community labor per week. So his various legal issues are still very far from over.