Comedy Central Picked Up a Pilot for The Chris Gethard Show
Congrats to the cable-access darling!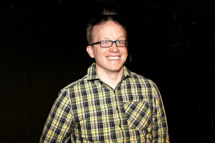 In what's pretty much a dream scenario all around, Comedy Central just ordered a pilot for New York City public-access darling The Chris Gethard Show. Deadline writes that the network was "looking to repeat the success it's had with...new late-night entry @midnight" when they decided to take a chance on the half-hour cable access show that features hilarious bits, frequently with famous guest stars. Funny or Die will co-produce, and Gethard, Zach Galifianakis, Will Ferrell, and Adam McKay are among the executive producers. "This is awkward to admit, but Adam and Will have no idea who Chris Gethard is," Funny or Die said in a statement. "Just heard a lot of buzz about him. And if there's one thing Adam and Will do, it's follow buzz. Have you heard about this whole energy drink thing?"