Dumb and Dumber To Hits Theaters November 2014
Perfect family Thanksgiving movie.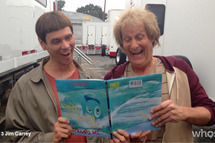 Just when you think Universal couldn't possibly drag out the making of Dumb and Dumber To any longer than they already have, they go and do something like this … and totally redeem themselves! According to Deadline, Jeff Daniels and Jim Carrey will return to theaters in the Dumb and Dumber sequel on November 14, 2014, making it the perfect movie to take your family to next Thanksgiving. Your grandmother loves idiocy, right?