How to Prepare Your Hanksgiving Meal
<span>We've designed a menu (with actual delicious recipes) for a Hanksgiving feast.</span>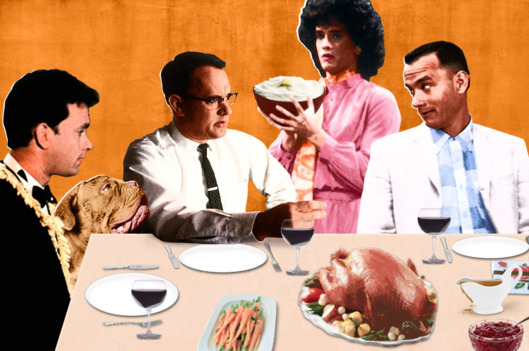 This piece originally ran in November 2013. With Thanksgiving tomorrow, we are republishing it.
There is a growing tradition around this time of year, in which families gather for a big feast to honor a national hero who ushered the U.S. into a new age of balancing romantic-comedy charm and serious acting chops: Yes, it is Hanksgiving, a time to give T.Hanks for Tom Hanks. The adults sit in a circle and talk about what they're T.Hankful for (perhaps this year it's Captain Phillips, Saving Mr. Banks, Broadway's Lucky Guy, or his delightful Reddit AMA?) and then sing the annual holiday standard, "That Thing You Do" by the Wonders. (Meanwhile, the kids trace their fists and then draw in a Big-era Hanks head.) This new annual event has mostly existed online, but it is time that this tradition becomes less virtual and more edible. To make that happen, Vulture has designed a menu for an actual Hanksgiving feast: We teamed up with our very own Bosom-Buddy blog Grub Street to design a meal of truly delicious and original Hanks-themed dishes. Gather your family of Hanks lovers and get cooking! (And just think of all the screening possibilities for after dinner.)
Bosom Birdies: There's no disguising this bird (even in drag!). Inspired by the best of friends, Kip and Henry, our turkey is filled with love — in this case, that's sweet apples and raisins — that will keep him (or her!) nice and moist.
Ingredients:
For the roulade filling
1 large egg
1/4 cup half and half
1 Loaf French bread, cut in 1-inch cubes and toasted in a 200˚ oven (about 2 cups)
4 tbs. (1/2 stick) unsalted butter
1/2 cup finely chopped onion
1 cup diced Golden Delicious apples
1/4 cup golden raisins
1 tsp. minced fresh rosemary
1/8 cup chicken stock
1/2 tsp. Kosher salt
1/4 tsp. ground white pepper
For the turkey
1 five-pound boneless turkey breast
2 teaspoons extra-virgin olive oil
1/2 cup dry sherry
1/2 cup chicken stock
2 tbs. butter
Fresh rosemary sprigs
Recipe by Noah Fecks; photographer
Directions:
Special Equipment
Kitchen string, waxed paper, flat meat pounder, quick-read thermometer.
Combine egg and half-and-half in a large bowl with a pinch of salt and pepper. Add toasted bread cubes and set aside.
In a skillet, melt butter over medium-low heat, add onions, and cook until onions are translucent. Add apples, raisins, rosemary, and chicken stock, and simmer over low heat until most of the liquid has evaporated. Combine apple mixture with bread mixture and set aside.
Preheat oven to 425˚ with oven rack set in the lower middle.
Pat turkey breast dry and make a lengthwise incision down the middle of the breast's flesh side, being careful not to cut all the way through to the skin. Fold the breast open like a book, and lay it flat on a piece of waxed paper. Place another piece of waxed paper over the breast and pound to about 1-inch flat using a flat meat pounder.
Remove the waxed top paper and spread stuffing on the meat, leaving about 1 inch of room on all sides. Sprinkle 1 tsp. of the olive oil over the filling and sprinkle the salt and pepper over the mixture as well.
Working from the side farthest from you, roll the breast up tightly and secure it with the kitchen string.
Place the roulade into a buttered or oiled roasting pan (one with a lid), seam-side-down, and roast uncovered for 25 minutes.
Combine sherry, stock, and 2 cups water in a bowl and add to the roasting pan. Cover with the pan with a lid and continue to roast for an additional 30 minutes, basting the meat once or twice.
Once the turkey reaches 175˚ on a quick-read thermometer, remove it from the oven and roasting pan, and place on a cutting board (reserve the cooking liquid). Tent the roulade with foil and allow to stand for at least 10 minutes.
Pour the braising liquid into a small saucepan through a mesh strainer. Bring to a boil and cook the liquid over medium-high heat until it reduces to a thick consistency that coats the back of a spoon. Remove from heat and swirl in the two tbs. of butter.
Remove the kitchen string from the roulade, slice it, and place on a serving platter. Pour some of the sauce over the sliced roll, and pass remaining sauce in a sauceboat. Garnish with large sprigs of rosemary.
That Stuff-ing You Do: How do you make a Wonder-ful stuffing for your bird? It involves pork sausage, dried cranberries, and none of your attitude, Jimmy.
Ingredients:
1 lb. ground pork sausage, any casings removed
4 tbs. (1/2 stick) unsalted butter
1 large onion, chopped
2 celery stalks, chopped
2 garlic cloves, finely chopped
1 tbs. finely chopped fresh sage
1 tsp. finely chopped fresh thyme
1 cup dried cranberries
1 medium loaf country-style bread
11/2 cups turkey or chicken stock
Recipe by Ian Knauer; food writer
Directions:

Preheat the oven to 400°.
Cut the bread into 1-inch pieces and toast in the oven until golden, 10 to 12 minutes. Transfer the bread to a large bowl.
Cook the sausage in a large, heavy skillet over medium-high heat until browned, about 8 minutes. Transfer the sausage to the bowl with the bread using a slotted spoon, reserving fat in the skillet.
Add the butter and the fat in the skillet and return it to medium heat. Stir in the onion, celery, garlic, sage, thyme, cranberries, 1 tsp. salt, and 1/2 of tsp. black pepper. Cook, stirring occasionally, until the onion is translucent, about 5 to 7 minutes.
Transfer the vegetables to the bowl with the bread. Toss the dressing together with the stock and transfer to a buttered 3-quart baking dish. Cover the dish with foil and bake 25 minutes. Uncover the dish and continue to bake until the bread is browned and crisp on top, about 25 minutes more. Serve.
You've Got Kale: Don't you just love kale in the fall? And don't you think Meg Ryan's Kathleen Kelly would've enjoyed a bunch of kale just as much as the daisies? And unlike a flower, kale tastes delicious when paired with squash and baked with goat cheese.
Ingredients:
2 medium skin-on delicata squash, halved lengthwise, seeded, and cut crosswise into 1/2-inch-thick slices
1/3 cup plus 2 tbs. olive oil
1/2 cup almonds or walnuts
3 tbs. apple-cider vinegar
1 large bunch Tuscan kale, trimmed of thick stems and sliced into 1/4-inch-thick ribbons (about 12 lightly packed cups)
8 ounces (1 package) fresh goat cheese, crumbled by hand
Recipe by JJ Goode; food writer
Directions:
Preheat the oven to 400˚. Toss the squash in a bowl with 2 tbs. of the olive oil and ½ tsp. or so of kosher salt. Spread the squash out in one layer on a baking sheet and bake, turning over the slices once, just until they're tender and lightly browned on both sides, about 15 minutes. Add the almonds or walnuts to the baking sheet with the squash and return to the oven for another few minutes, toasting the nuts until they're aromatic. Let it all cool.
Meanwhile, whisk together the vinegar, the remaining 1/3 cup of olive oil, and ¼ tsp. salt. Toss the dressing with the kale so it's well coated, and let the kale sit until it's slightly wilted and tender, about 15 minutes. Season to taste with a little more salt.
Put half of the kale on a platter, scatter on half of the squash, the nuts, and the crumbled goat cheese, then add the rest of the kale, squash, nuts, and cheese. Add more salt if desired and serve immediately.
Joe Versus the Potatoes: These potatoes will be such a cult classic that you might just return to them every year. Imagine if Joe and Patricia took a leap of faith into a volcano full of these creamy spuds instead of hot lava? Things might have ended up the same, but certainly more delicious.
Ingredients:
2 lbs. Yukon Gold potatoes, peeled and cut into chunks
1/2 lb. (2 sticks) unsalted butter, cut into cubes and chilled
1/4 cup whole milk
8 ounces (1 package) fresh goat cheese, cut into rounds
Chives, snipped with kitchen shears for garnish
Recipe by Alan Sytsma; food editor, nymag.com/Grub Street
Directions:
Special equipment
Food mill or ricer
Place the peeled and cut potatoes into a pot of cold, salted water. Set over medium heat and boil until the potatoes are tender, about 20 minutes. Remove from heat and drain potatoes very well.
In a separate pot, place the milk over low heat and bring to a bare simmer.
Meanwhile, using a ricer or food mill, purée the cooked potatoes (do not use a food processor or the potatoes will get gluey). The potatoes should be very smooth.
Add the puréed potatoes back to the original pot and place over low heat. Add the simmering milk and stir well to incorporate. Add the chilled butter one piece at a time, stirring to incorporate after each cube. Season with salt to taste, then add the goat cheese in a manner similar to the butter, stirring well to incorporate. Taste again and season with salt as necessary.
Place the potatoes in a serving bowl and top with the chives.
Turnips & Hooch: In honor of Detective Scott Turner and his trusty mutt, we're cooking up maple-infused turnips, and the only mystery to solve here is why you feel so relaxed after eating them. Clue: It's the "hooch" (whiskey).
Ingredients:
2 1/4 lbs. of turnips, ideally somewhere between golf-ball- and tennis-ball-size; washed, trimmed, and peeled
2 tbs. white miso
2 tbs. maple syrup, Grade A
1/3 cup white whiskey, such as Van Brunt Stillhouse's
2 tbs. unsalted butter, cut into three pieces
Recipe by Hugh Merwin; associate editor, Grub Street
Directions:
Cut turnips lengthwise and cut each section into 1-inch wedges.
Mix the miso, maple syrup, moonshine, salt, and butter together in a bowl.
Place the turnips in a wide skillet with miso-maple-moonshine mixture and fill with just enough water to cover the turnips halfway. Bring to boil and reduce to low simmer. Cook, stirring occasionally, for around 12 minutes.
(The dish is done when turnips are cooked all the way through and the liquid reduces to a thick, syrupy glaze. If the turnips are finished cooking before the liquid has reduced to a glaze, remove them with a slotted spoon and continue to cook liquid until it becomes syrupy. Likewise, if the liquid reduces to a glaze before the turnips are cooked, add hot water in small increments until turnips are cooked to desired consistency.)
Remove the warm turnips and place in a serving bowl.
Catch Me If You Cran-berries: As colorful and festive as a sixties airport lounge!
Ingredients:
1 12-ounce bag of cranberries
3/4 cup sugar
3/4 cup water
Zest and juice of 1 orange
1 tbs. finely chopped ginger
1 whole star anise
1 cinnamon stick
Recipe by Tejal Rao; restaurant critic, Bloomberg
Directions:
Mix all ingredients together in a pan and simmer until the cranberries are very soft and the liquid is thick and jammy, about 20 minutes.
Forrest Pump-kin Pie: Unlike a box of chocolates, you do know what you're gonna get with every bite of this: pure pleasure! The bourbon kick would certainly please Lieutenant Dan.
Ingredients:
For the crust
1 1/4 cups all-purpose flour, plus more for dusting
1/2 teaspoon salt
1 stick cold unsalted butter, cut into pieces
For the filling
12 ounces cream cheese, softened
1 (15-ounce) can pure pumpkin
1 cup granulated sugar
2 large eggs, plus 1 egg yolk, lightly beaten
4 tbs. unsalted butter, melted and cooled
1 cup heavy cream
1 tbs. bourbon
2 tsp. vanilla extract
2 tsp. pumpkin-pie spice
1/4 tsp. salt
Sweetened whipped cream, for serving
Recipe by Erin Phraner; Food Writer
Directions:
Preheat oven to 350˚.
Make the crust: Pulse the flour and salt in a food processor fitted with the blade attachment. Add the butter and pulse until the mixture resembles coarse meal with pea-size bits of butter. Add 2 tbs. ice water; pulse until the dough sticks together when gently pressed between your fingers (add 1 tbs. more ice water, if needed).
Turn the dough out onto a large piece of plastic wrap; use the plastic wrap to help you press the dough into a flat disk. Refrigerate at least 1 hour.
Roll the dough into a 12-inch round on a lightly floured surface. Ease into a 9-inch pie plate. Trim the excess dough and fold the edges under; crimp as desired. Pierce the bottom all over with a fork and return to the refrigerator. Chill until firm, about 45 minutes.
Line the crust with parchment paper, then fill with pie weights or dried beans. Bake until the edges are golden, about 10 minutes, then remove the pie weights and continue baking until the crust is golden all over, about 10 more minutes. Transfer to a wire rack and cool completely.
Meanwhile, make the filling: Beat the cream cheese in a large bowl with a mixer on medium speed until smooth. Add the pumpkin and beat until combined. Add the sugar and beat until smooth. Add the eggs and egg yolk, butter, heavy cream, bourbon, vanilla extract, pumpkin-pie spice, and salt and beat until combined, scraping down the bowl as needed.
Pour the filling into the cooled crust. Transfer pie plate to a foil-lined baking sheet and bake until the edges are set but the center is slightly wobbly, 45 to 50 minutes. Let cool to room temperature on a wire rack. Serve with sweetened whipped cream.