Paul Rudd, John Goodman, Jimmy Fallon Will Each Host SNL Again
Paul Rudd, John Goodman, One Direction, and Kings of Leon, too.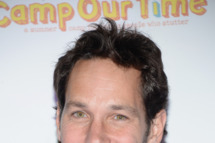 Paul Rudd, John Goodman, and Jimmy Fallon will all return to host SNL again in the coming weeks, NBC announced today. On December 7, Rudd will host for the third time, along with second-time musical guests One Direction; the following week, Goodman will make his thirteenth appearance, with musical guests Kings of Leon making their third; and finally on December 21, Jimmy Fallon will host for the second time, with Justin Timberlake making his fifth appearance as a musical guest. (He's also hosted five times.) Another banner day for white dudes!