Lady Gaga Ekes Out a No. 1
<em>ARTPOP</em> made it.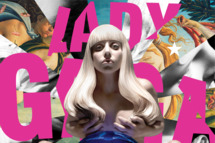 Lady Gaga sold 258,000 copies of ARTPOP last week, which is not a lot more than the 210,000 albums that Eminem sold, but enough to make her No. 1. For comparison, Gaga sold 1.1 million copies of Born This Way in its first week, though that album was boosted by a deep Amazon discount. (Price: 99 cents!) More comparison: Katy Perry (286,000) and Miley Cyrus (270,000) both had bigger debuts this fall. Those are the facts.