Laura Prepon Will Reportedly Do More OITNB
Four episodes instead of one. Rejoice, Alex fans.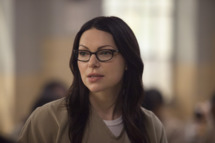 After striking panic into fans' hearts with rumors that she'd only be on one episode of Orange Is the New Black's new season, Laura Prepon, who plays Piper's former-and-sorta-present lover Alex, will now reportedly be in four whole episodes. (Netflix did not immediately respond to our request for comment.) According to BuzzFeed, in addition to these four eps, Prepon is already negotiating her third-season contract. How many episodes will the puppy Little Boo be in, though? Little Boo needs a lot more screen time.