What Mark Wahlberg Thinks of Actors Who Compare Their Movies to War
"How f**kin' dare you!"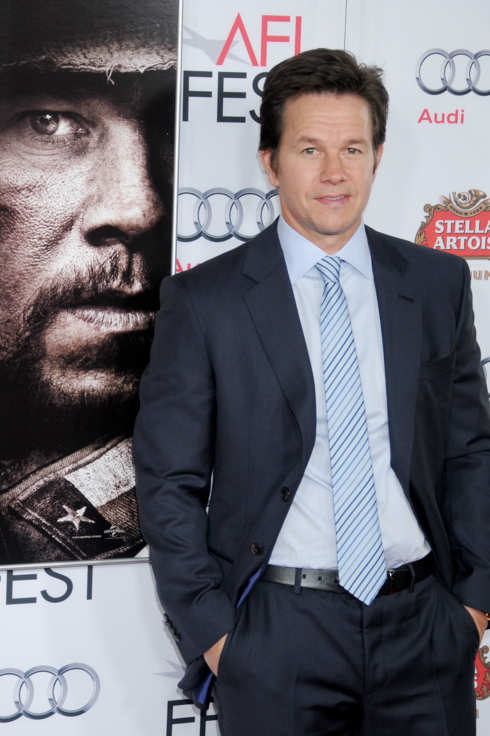 "I'm not in a good place to talk about anything right now," admitted Mark Wahlberg last night. It was just after the AFI Film Festival premiere of his new film, the fact-based war drama Lone Survivor, and though Wahlberg had reluctantly joined director Peter Berg onstage at the Chinese Theater, he was too emotional to say much. As Wahlberg took a long pause to collect himself, he looked to his right toward Marcus Luttrell, the former Navy SEAL whom Wahlberg plays in the film. Tears threatening to form in his eyes, Wahlberg growled to Luttrell, "I ain't gonna bitch out on you now!"
It's rare to see Wahlberg so emotional in a public setting, but the harrowing Lone Survivor is no ordinary war film. Set against the war in Afghanistan, it follows Luttrell and his fellow SEALs (played in the film by Taylor Kitsch, Ben Foster, and Emile Hirsch) during a military operation gone wrong, which claims the lives of everyone but Luttrell himself. "I just got really upset that those guys will never see their families again," said Wahlberg, who choked up after the end credits spooled.
The moderator asked Wahlberg to describe his training for the film, but he immediately waved off the question. "It's just so fake and false compared to what these guys went through," he said. "I've talked about how I've trained for four and a half years to do The Fighter. Fuck all that! It really means nothing." His vehement dismissal couldn't help but evoke the specter of Tom Cruise, who landed in hot water this week when it was reported that he equated acting in a futuristic war movie with actually fighting in the war in Afghanistan, a comparison that immediately rankled veterans. (TMZ claims that Cruise was goaded into making the comment and the Atlantic also wrote about the quote being taken out of context.)
"I don't give a fuck what you did, you don't do what these guys do," said a visibly angry Wahlberg. "You don't! If you sit there and say, 'My job is as difficult as someone in the military,' how fuckin' dare you! I don't give a shit if you're getting your ass busted, you get to go home at the end of the day. You get to go to your hotel room, and you get to order fuckin' chicken."
Wahlberg tried to temper his vitriol, waxing emotional about ESPN broadcasts on Veterans Day that showed military parents returning home to their families. "I'm sorry for losing my shit," he finally said. "I've been to jail, so I don't give a fuck." He turned to the moderator with one simple request: "Don't ask me any more questions tonight." He got his wish, breaking his silence only once to offer an on-the-spot testimonial to his friend Luttrell. "This man is my hero in so many ways," said Wahlberg. "It's amazing how somebody who's been through so much can give me so much inspiration and so much hope. He's done nothing but make me cry and make me laugh, every day."