What Movies to Watch With Your Family on Netflix This Thanksgiving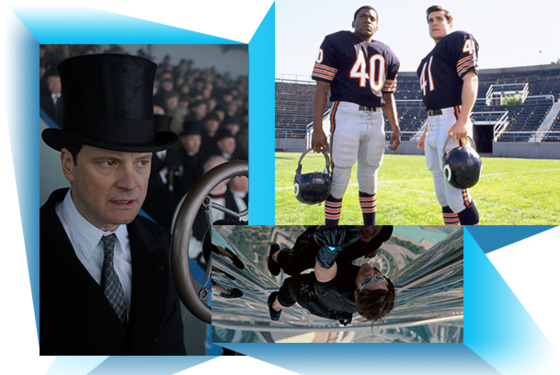 It's turkey day and it's family day and there's going to be a lot of food and there's going to be a lot of downtime. So you can either head out to the multiplex (and if you are, check out our list of what movies to see/not see) or click on Netflix and try to choose something that will satisfy everybody. Let's run through some scenarios that you might encounter today or this weekend.
You want to see Catching Fire, but don't want to brave the crowds.
Just watch The Hunger Games again.
You sort of want to see Catching Fire but are annoyed by the fact that it's PG-13.
Okay. Just watch the movie that some of your more pretentious friends keep saying The Hunger Games is ripped off of — Battle Royale. The 2000 Japanese movie presents a world where the government randomly chooses young students to send to an island where they must kill each other to survive.
A bunch of your male family members are sitting in the living room but there's no football currently on and you don't want to watch an action movie.
It's been a while since you all cried together, but in a manly way, so just throw on Brian's Song, the 1971 James Caan/Billy Dee Williams–starring drama about the friendship between two Chicago Bears and what happens when one of them gets cancer. You could also try The Longest Yard, the 2005 remake of the 1974 "playing football in prison" movie starring Burt Reynolds. Adam Sandler takes the lead role in this one. One final choice is Undefeated, the 2011 Oscar-winning documentary about a Memphis high school football team.
Everyone's in the mood for a dumb, new-ish movie that they don't have to pay too much attention to.
You could give the Gerard Butler-starring Olympus Has Fallen, the first (and most successful) of this year's "White House gets attacked" movies. Or, if you want a love-drenched romance, there's this year's Safe Haven, starring Julianne Hough and directed by Lasse Hallström from a Nicholas Sparks novel.
Photo: Paramount and The Weinstein Company