16 Movies to See (or Not See) This Thanksgiving
Our critics on all the major releases out now.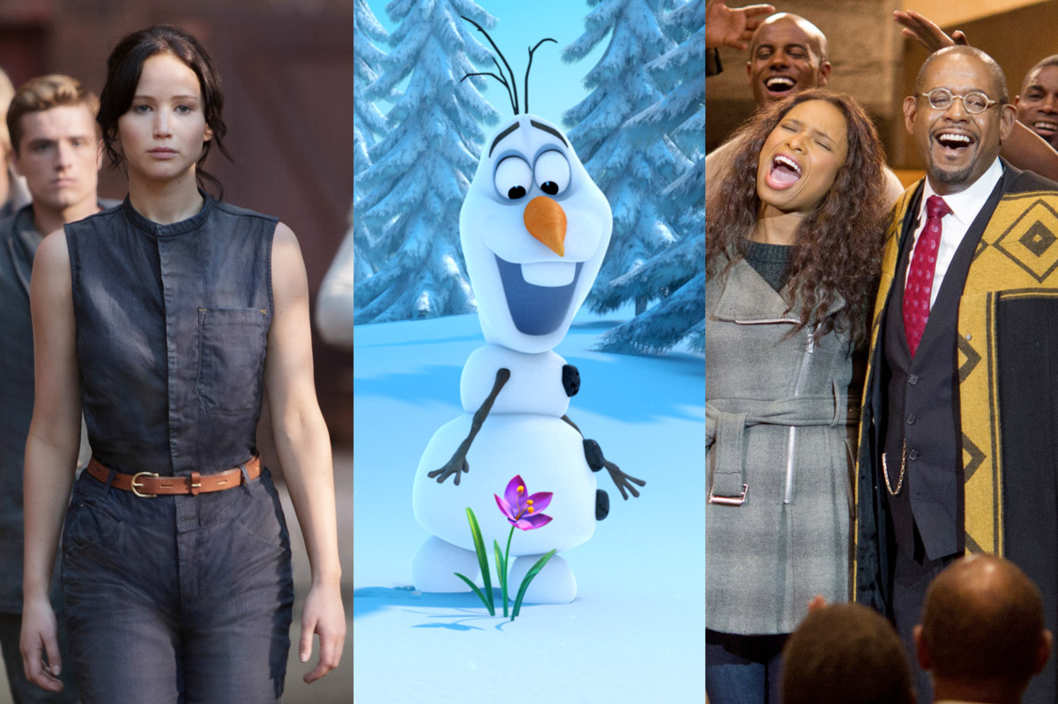 The Thanksgiving weekend starts today — which means food, festivity, and much family time to be killed. And what better way to carve up the hours than with a trip to the movie theater — forced silence forestalls any touchy political conversations with older relatives or having to explain for the fifth time why you're still single. (It's also pretty easy to doze off from all the tryptophan without having to feel guilty about it.) Here's our list of what films are out now and what our critics have said about them.
Oldboy
Of this Spike Lee–directed revenge thriller, David Edelstein wrote: "By American multiplex standards, Oldboy is dark and savage, and those who don't know the original will be stunned by the bleakness of the ending. Those who do (the Oldboy network) will be upset by how sentimental and tidy it is in comparison."
Homefront
Of this Jason Statham–starring, Sylvester Stallone–written action film, Bilge Ebiri wrote: "It's got good villains — nasty, delirious, stupid villains, among them James Franco and Winona Ryder — and for that it's almost worth seeing. Almost."
Frozen
Of the season's latest animated film, Bilge Ebiri wrote: "Frozen is one of the few recent films to capture that classic Disney spirit."
Black Nativity
Of this new film based on Langston Hughes's all-black 1961 musical restaging of the Nativity story, Bilge Ebiri wrote: "It's not so much a movie about Jesus as it is a movie about why one might need Jesus, or religion, in the first place; it rightly places the focus on those who seek spiritual salvation. It doesn't always work as drama, but as a musical, it's often fantastic."
Philomena
Of this tale of an older woman searching for the son she long ago gave to a group of nuns, David Edelstein wrote: "...The new Judi Dench–Steve Coogan vehicle Philomena is just the sort of awards-bait weeper (with laughs) to cross over to a biggish audience. Directed by Stephen Frears from a script by Coogan and Jeff Pope, the movie is overcalculating and occasionally coarse, but it has a gentle spirit. We should count its existence as a blessing."

Delivery Man
Of Vince Vaughn's latest go-round as a man-child, Bilge Ebiri wrote: "Nothing quite seems to fit, as if the movie's been assembled from bits and pieces of other movies. That could describe a lot of movies today, but Delivery Man feels more unformed, as if nobody's bothered to give it that extra coat of slick Hollywood paint to cover up the patchwork beneath."
The Hunger Games: Catching Fire
Of this movie that everyone's either seen or will see this weekend, David Edelstein compared it to the first entry in the franchise, writing: "Relatively speaking, Catching Fire is terrific. Even nonrelatively, it's pretty damn good."
The Best Man Holiday
Of this sequel to the 1999 romantic comedy, Bilge Ebiri wrote: "The Best Man Holiday is an inelegant movie, but its cast is so damn likable that we're still willing to follow them — even when they're not going anywhere."

Nebraska
Of Alexander Payne's (Election, The Descendents, Sideways) latest, starring Bruce Dern as a man who thinks he's won a million-dollar sweepstakes, David Edelstein wrote: "Nebraska is a bumpy ride — I fought with it constantly. But that car goes somewhere unexpected. The movie is a triumph of an especially satisfying kind. It arrives at a kind of gnarled grace that's true to this sorry old man and the family he let down in so many ways."

The Book Thief
Of this movie about Nazis and literature, Bilge Ebiri wrote: "We keep waiting for something eye-opening, and we rarely get it. By and large, The Book Thief is serviceable, sleek, and stodgy."

12 Years a Slave
Of this critically acclaimed slave tale, David Edelstein wrote: "The movie … is smashingly effective as melodrama. But [Steve] McQueen's directorial voice — cold, stark, deterministic — keeps it from attaining the kind of grace that marks the voice of a true film artist."
About Time
Of this time-traveling family drama, David Edelstein wrote: " ... About Time is like a sermon that starts with a few good jokes and ends with tremulous exhortations to live, live. I couldn't agree more, but I wish [director Richard Curtis] went back to imparting his wisdom through high-­flying humor rather than leaden homily."
Dallas Buyers Club
Of this drama starring Matthew McConaughey as an AIDS-stricken rodeo cowboy who decides to start his own business selling unapproved medications, David Edelstein wrote: "Despite its downbeat context (a plague at its height), the movie is a crowd-­pleaser—graceful and funny enough to distract you from its gaps and elisions. "
Thor 2: The Dark World
Of this latest Marvel movie, David Edelstein wrote: "Sometimes the balance is off and the movie tilts into camp (Kat Dennings as Portman's high-strung assistant is an irritant), but when all is said and disintegrated, it delivers. At these prices, it better."
Last Vegas
Of this "old guys party it up" comedy, Bilge Ebiri wrote: "Once upon a time, the idea of Robert De Niro, Michael Douglas, Morgan Freeman, and Kevin Kline joining forces in a movie would have meant something different — something major. Now all it portends is a lot of mild-mannered old-age jokes. The trailers may promise us The Bucket List meets The Hangover, but Last Vegas isn't even that."
Ender's Game
Of this adaptation of the beloved sci-fi YA novel, David Edelstein wrote: "In spite of the nonstop thunderous orchestral score, Ender's Game forgoes the usual rah-rah-kill-the-Alien-Other tone that powers so many of our mainstream action pictures. Whether younger audiences primed to cheer will submit to this is an open question. I hope so. The end delivers a kick that should knock the wind out of anyone."