Zac Efron Breaks His Jaw
This really has not been his year.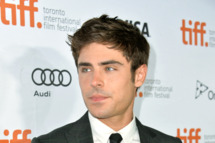 First he went to rehab for cocaine, then we all saw his butt in that trailer, and now this. TMZ reports that Zac Efron slipped in a puddle at his house and broke his jaw, which we're all now picturing and cringing. In addition to needing stitches in his face, the actor apparently had to have his jaw wired shut. On the plus side, 2013 has to end at some point.