30 Rock Creator Robert Carlock Remembers the Show's Odd Mascot, Woollie
"The World's Most Terrifying Sitcom Mascot."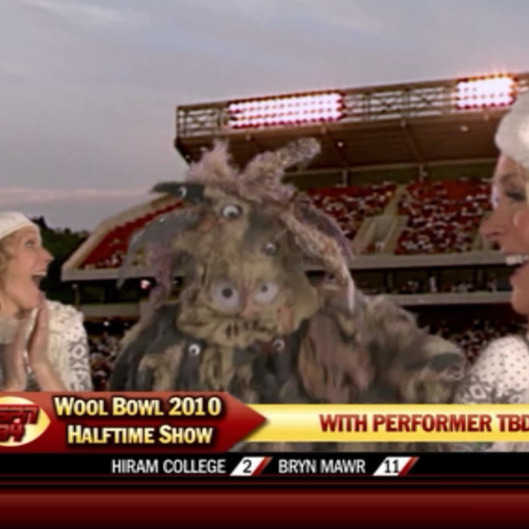 Modern Farmer has apparently managed to tap into 30 Rock co-creator Robert Carlock's lingering obsession with a character whose appearance on the show lasted just under two minutes. Woollie appeared briefly in the finale of 30 Rock's fifth season, in an episode called "Respawn." He's the many-eyed, horrifying mascot of the "Wool Bowl" — a football event Jenna Maroney agrees to front. Carlock explains: "Woollie has nothing to do with the story, really. I was trying to think of a not-terribly-sexy thing that Jenna could be celebrity face of. It was always fun that she would get any kind of attention. So, as opposed to the Cotton Bowl, we had the Wool Bowl." And Woollie? What was he? "It was more like a mask than a costume, a mask of wool and eyes." Later, there's an animatronic sheep ("We had to fly it in"), whose hilarious head-turn was "was no small feat." But back to Woollie: "There is a great loneliness with Woollie," Carlock adds. "I've thought alot about Woollie. I'm thinking about Woollie most days."