Amanda Seyfried to Star in He's F-ing Perfect
From Will Ferrell's Gary Sanchez Productions.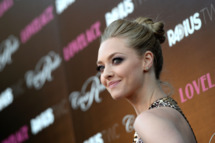 Come to think of it, most rom-com titles really aren't edgy enough. Just tell your grandma it's short for He's Fudging Perfect. Amanda Seyfried will star in the upcoming Universal film as a "social media-savvy girl" who uses her Googlin' skills to become her dream man's ideal woman, before inevitably ending up with ... oh let's say ... the concierge at her dog hotel. The title He's a F-ing Concierge at a Dog Hotel is racy enough, but probably a tad too long.