American Hustle Review Roundup: Christian Bale's Hair
"There is so much hair ... "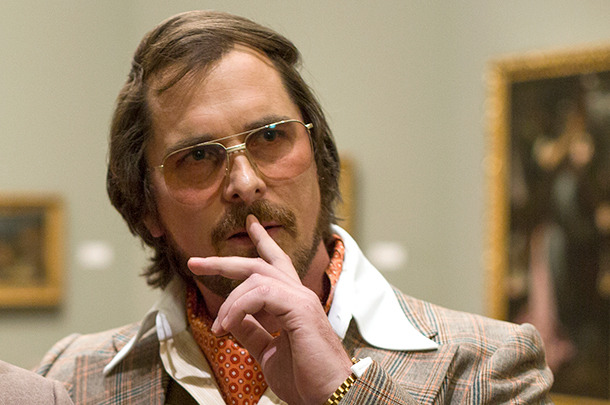 Christian Bale's hair is full of secrets. At least that's what David O. Russell tells us in the opening scene of American Hustle, where a pudgy Bale spackles a toupee underneath his comb-over. Bale, who plays Irving Rosenfeld, is the ultimate confidence man, and a confident man needs a full head of hair. Not to be outdone, each cast member gets a wildly entertaining seventies-era hairdo to suit their characters — Bradley Cooper sports a prima donna perm; Amy Adams has wild frizz; Jennifer Lawrence has a big, blonde updo; and Jeremy Renner rocks an Elvis pompadour — but ultimately it's Bale's hair that acts as a stand-in for the era. This is hair as metaphor, hair as tragic ruse, hair as American bullshit — at least according to all the critics.
"It's a powerful moment when Irving and FBI agent Richie DiMaso (Cooper) get into a fierce, testosterone-fueled spitting match and Richie knocks Irving's hair out of place: the lowest of low blows, especially since Richie is later seen with a head full of curlers and knows the importance of styling." —David Edelstein, New York
"As for the exaggerated costumes, hair and makeup, it's all part of Russell's master plan to show characters reinventing themselves as a survival mechanism. Condescending, no. Compassionate, yes. Russell sees himself in these broken dreamers." —Peter Travers, Rolling Stone
"...A combover who appears to epitomise the Spinal Tap maxim about it being a fine line between stupid and clever." —Peter Bradshaw, the Guardian
"Even so, Mr. Russell doesn't seem all that interested in veracity, and the movie opens with a playful assurance that "some of this actually happened," a declaration that feels calculated to block off-point objections that some of it didn't happen. Details have been changed, and everyone, as is often the case in movies, looks younger and prettier, less lumpy and beaten down by life than the original players, even Irving and his magnificently tragic, trumped-up hair." —Manohla Dargis, the New York Times
"A Welsh actor playing Bronx Jewish in a sludgy voice, Bale is funny from the first scene, but he doesn't try for laughs—a man with a hairpiece needs to stay in control." —David Denby, The New Yorker
"Before anyone in "American Hustle" starts talking, Russell gives us a single cogent image: Conman Irving Rosenfeld (Christian Bale) glaring at himself in a hotel mirror, packing a significant paunch, his hair jutting upward from a bald scalp as he prepares to apply an unruly combover. The actor's barely recognizable, and becomes increasingly buried in the performance as he awkwardly wrestles with his hairpiece, establishing the slapstick tone and the story's main theme with a single comic bit." —Eric Kohn, indieWIRE
"In the opening scene, Irving Rosenfeld (Christian Bale) plasters on his complex comb-over, and if we chuckle at the lowly kitschiness of his appearance, it also lets us know that Irving is a walking fraud." —Owen Gleiberman, Entertainment Weekly
"You'll want to love Irving (Christian Bale), the half-smart schmo first seen finessing an elaborately glued comb-over in the mirror — and you'll hate Richie (Bradley Cooper), the aggro Fed who, with a flick of his hand, ruins it." —Joshua Rothkopf, Time Out New York
"Irving Rosenfeld approaches the bathroom mirror without bothering to ask who's the fairest of them all. Paunchy of gut and bald on top, he knows he has work to do. Like a surgeon of sleaze, he glues a toupee thatch to his pate, arranges the lank hair on his temples across his skull and shellacs the whole mop with hair spray." —Richard Corliss, Time
"There's a lot of great hair in this movie but none more transfixing than the carefully sculpted comb-over worn by Irving Rosenfeld (Christian Bale), which we watch him construct in a process involving glue, a fake thatch and a thick coat of Elnett." —David Rooney, The Hollywood Reporter
" ... The worst comb-over since Bill Murray's in the 1996 film Kingpin." —Claudia Puig, USA Today
"What follows is a bit of demented primping, as the aging con artist struggles to whip up the presentable illusion of a full coif. There's nothing novel here, either in the casual cruelty afforded by Russell toward a grotesquely conceived character or the facility of the metaphor he's presenting, but what's unexpected is how the scene turns out: Through a motley combination of glue, dyed cotton, and elbow grease, Irving manages to approximate a full head of hair, an unlikely ruse whose success is mirrored by this manic, surprisingly entertaining film." —Jesse Cataldo, Slant Magazine
"Bale seems to relish his role, truly "from the feet up," even making his frequent hairpiece adjustments seem zippy and fun." —Kate Erbland, Film.com
"There is so much hair ... " —Jordan Hoffman, Screen Crush