The Childhood of a Leader Casts Robert Pattinson
It will shoot in Europe in May.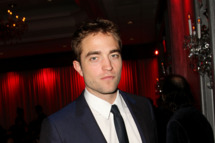 And so one heartthrob's march toward legitimacy continues. Robert Pattinson joins Tim Roth and Juliette Binoche in The Childhood of a Leader, the directorial debut from Simon Killer writer Brady Corbet about "the childhood of a post-World War I leader." Is it going to be little Hitler? It's little Hitler, isn't it? It's never not Hitler.