Disney Is Working on a Jesse Owens Biopic
Written by <em>The King's Speech</em> scribe.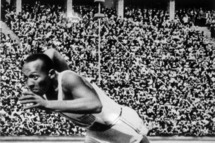 Disney is currently developing a Jesse Owens movie based on Jeremy Schaap's Triumph, a biography spanning the track-and-field star's childhood all the way to his success at Nazi Germany's 1936 Olympic Games. David Seidler, the Oscar-winning writer of The King's Speech, is also attached. Is there anyone in the world who would not see a sports movie that involves demolishing racial barriers and humiliating Nazis? We could watch Nazis be humiliated all day long. That is literally the only thing we want to see in any film.