Heart Cancels SeaWorld Gig Owing to Blackfish Documentary
They join Willie Nelson and Barenaked Ladies in the list of acts who have pulled out because of the documentary.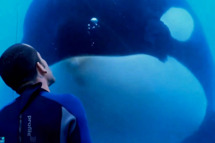 This week, Heart became the third act to cancel their show at SeaWorld after seeing Blackfish — a documentary that targets the water park for its mistreatment of killer whales. Heart's announcement follows similar cancellations from SeaWorld-scheduled acts Willie Nelson ("I don't agree with the way they treat their animals," he said to CNN's Brooke Baldwin) and Barenaked Ladies ("This is a complicated issue, and we don't claim to understand all of it, but we don't feel comfortable proceeding with the gig at this time," they wrote on their Facebook page). In response, SeaWorld spokesman Nick Gollattscheck told CNN: "While we're disappointed a small group of misinformed individuals was able to deny fans what would have been great concerts at SeaWorld ... we respect the bands' decisions."
Heart has chosen to decline their forthcoming performance at SeaWorld on 2/9/14 due to the controversial documentary film 'Black Fish'.

— Heart (@officialheart) December 8, 2013