Chris Hemsworth Kissed a Natalie Portman Impostor at the End of Thor 2
Portman wasn't available for the scene, but they had a perfect alternate.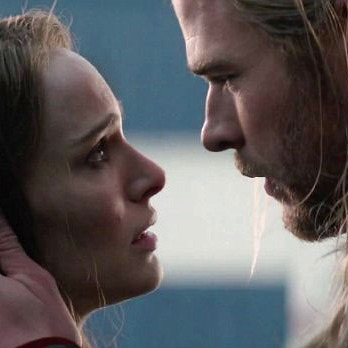 [Spoiler alert, but not really.] In the second post-credit scene in Thor: The Dark World, Thor returns to Earth and gives his beloved Jane Foster a godlike smooch. While you were distracted by how much Thor must slouch to kiss such a tiny human, some other trickery was afoot: It wasn't Natalie Portman. As the actress told the Daily News, "It was for reshoots (after the film was finished) and he was working in Hong Kong and I couldn't get there because I was working on my own film."  The solution: "They put his wife [actress Elsa Pataky] in my wig and costume, that's why it was so passionate." Awwwwwww, unless it was actually Loki shape-shifting himself to look like Pataky dressed as Portman, then ewwwwwww.