Justin Bieber's 'Music Mondays' Will Be Released As Full Album
It will be called <em>Journals</em>.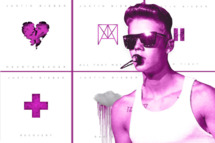 Finally, an answer to the question we asked a month ago: What's going on with Justin Bieber's music? Turns out, the slew of R&B-heavy #MusicMonday tracks he's been releasing on Sundays at midnight as a lead-up to a Christmas Day documentary, Believe, will be compiled into a collection. Journals, to be sold for a limited time on iTunes (December 16 through January 2), will package all ten existing releases with some added videos and additional tracks featuring Future ("What's Hatnin'"), Lil Wayne ("Backpack"), and Big Sean ("Memphis"). A new full-length album is scheduled for the end of next year, after Bieber takes a much-needed vacation.