Comparing the Long Island Blondes of American Hustle, The Wolf of Wall Street, and Don Jon
Strong accents, big hair, no big whoop.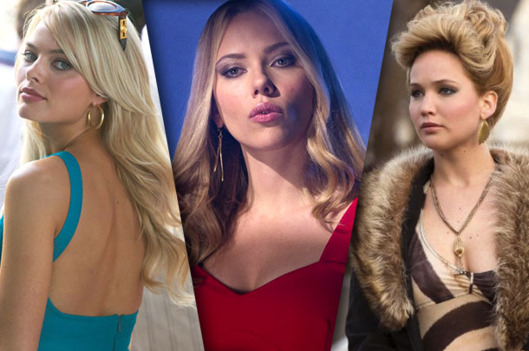 Tease your hair out, snap your gum, and put on something that hugs your curves, because it's a boom time for brassy Long Island blondes at the movie theater this season. Between Jennifer Lawrence in American Hustle, Margot Robbie in The Wolf of Wall Street, and Scarlett Johansson in Don Jon, it seems like just about every well-reviewed comedy about a rake behaving badly is guaranteed to feature him romancing a heavily accented hottie from across the harbor. But how can you tell all these lovely ladies apart? With this handy-dandy guide, you'll be better able to tell your Barbaras from your Naomis and from your Rosalyns. And you'd best study up: Set one foot wrong, and you'll run afoul of the one thing these Long Island blondes all have in common — their outrageously hair-trigger temper.

Barbara Sugarman
(Scarlett Johansson)
Don Jon

Naomi Belfort
(Margot Robbie)
The Wolf of Wall Street

Rosalyn Rosenfeld
(Jennifer Lawrence)
American Hustle
Affectionately referred to as
A dime
The Duchess of Bay Ridge
The Picasso of passive-aggressive karate
Romantically involved with
Jon, a New Jersey-born Lothario whose personal theme song is Marky Mark's "Good Vibrations"
Jordan, a Queens-born swindler whose personal theme song is Naughty By Nature's "Hip Hop Hooray"
Irving, a Bronx-born con man whose personal theme song is Duke Ellington's "Jeep's Blues"
Introduction
Looking impeccable at a crowded club
Looking impeccable at a crowded party
With half her face burned from a sun lamp
First seen wearing a skintight...
Red dress
Blue dress
White leotard
Hairstyle
Long, blond, and wavy
Long, blond, and wavy
The most insane updo you've ever seen in your life
Loves to discuss...
Romcoms
Lingerie
Nail polish
Uses or withholds sex in order to...
Motivate Jon to take college courses
Punish Jordan for crashing a helicopter into the estate at 3am
End arguments
Angered after discovering...
That Jon looks at porn
That Jordan has been fooling around with a hooker named Venice
That Irving's mistress will be joining them at an important party
Is she constantly cheated on?
Well, with porn, yes
Yes
Yes
Is her man more besotted with an older woman?
Yes
No
Yes
Is there a fight over child custody?
No
Yes
Yes
Indicative dialogue
"Don't talk about vacuuming in front of me, come on!"
"Mommy's so sick and tired of wearing panties."
"All your empty deals; they're just like your fuckin' science oven."