NBC Is Doing Another Live Musical
"We could do this again — and again and again."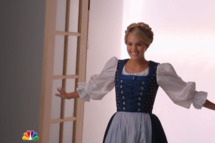 Last week's Sound of Music Live allowed NBC to relive its Must-See TV ratings if only for a brief evening, so it's not surprising that they're looking to make lightning strike twice. Since that broadcast gave the Peacock its highest Thursday night ratings since the ER finale in 2009, according to The Wrap, NBC announced Monday that it is planning yet another live musical for the 2014 holiday season. Chairman of NBC's entertainment Robert Greenblatt told the New York Times: "All weekend, people have been calling us and e-mailing us. Rights holders of musicals have said, 'Please do one of our shows.' We're excited to try it again." He added, "There's enough to do a handful of these over the next years...I think we could do this again — and again and again." Since they're taking suggestions, we'd like to start off with Starlight Express Live.