One Direction, 'Wrecking Ball' Are No. 1 Again
Familiarity is comforting.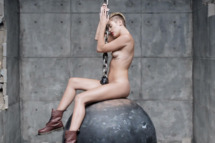 Which means that the "Royals" era has finally come to an end. "Wrecking Ball" is back at No. 1 on the Hot 100 this week, thanks to the popularity of a Chatroulette-themed parody video. (Whatever it takes, we guess.) Over on the Billboard 200, One Direction lands its third No. 1 with Midnight Memories, which sold 526,000 copies in its first week. Congratulations to the half-a-million parents who already have their holiday shopping done.