Paul Rudd in Talks to Play Ant-Man
60 percent of the time, Ant-Man wins every time.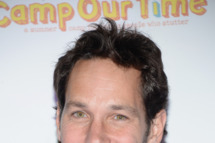 Variety reports that Paul Rudd is allegedly in talks to star in Marvel's upcoming Ant-Man, beating out Joseph Gordon-Levitt for the role of scientist Henry Pym. Considering both Rudd's casting and the fact his powers will be changing size and controlling insects, Ant-Man seems destined to be a goofy, wisecracking superhero. They wouldn't try to do a straight superhero film with Paul Rudd, would they? What would that even look like? When answering, please keep in mind the shrinking and talking to bugs.