Roger Ebert Memorial Sculpture Is Almost a Reality
Get the tissues ready.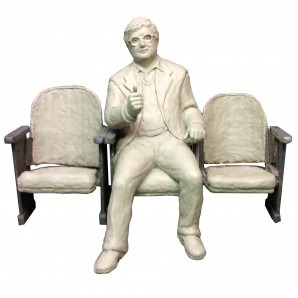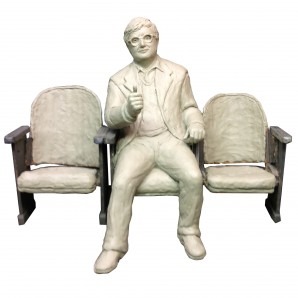 Considering what a treasure Roger Ebert was to film and writing in general, it's no surprise that the community of Champaign, Illinois (which neighbors his hometown of Urbana) wants to put up a commemorative statue of the late critic, just eight months after his death. The statue (left) will be built outside their Virginia Theatre house and depict the Pulitzer Prize–winner sitting in the middle of three movie theater seats, giving his famous thumbs up.
According to a story in the local News-Gazette, the project will cost $122,500, and donations are currently being collected here. Even better, the Ebert Foundation has agreed to match funds up to $25,000.  Chaz Ebert, who currently heads her late husband's memorial foundation, said their decision was made "to show appreciation to the Champaign-Urbana community for choosing to honor her late husband in this manner."