2014 TV Premiere Dates: A Handy Guide to What's on in October and Beyond
Quit stressing out and start programming your DVR.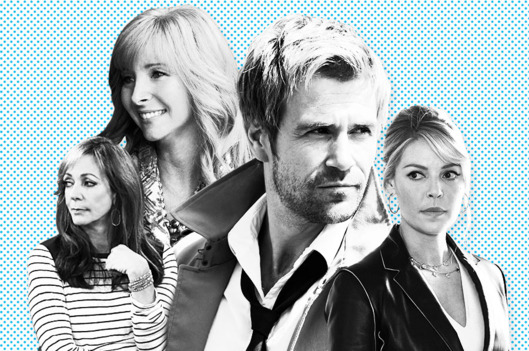 So much has already happened this year on television — Broad City! True Detective! Orange Is the New Black! BoJack Horseman! — that it can be hard to fathom that a whole bunch of other amazing stuff is still on the horizon. More old shows return! More ongoing shows resume! More news about events requiring exclamation points to convey properly! It's a TV bonanza, as you'll see with this handy calendar Vulture has put together and will continually update that gives you intel on significant upcoming premieres, season finales, and other tube-ular events. As always, television is fickle and these dates could change, but for now, this is what the 2014 TV calendar looks like this October and beyond.
Tuesday, October 14
Marry Me (relationship comedy) series premiere, 9 p.m., NBC
About a Boy season-two premiere, 9:30 p.m., NBC
Friday, October 17
The Knick season-one finale, 10 p.m., Cinemax
Foo Fighters: Sonic Highways (Dave Grohl–directed docu-series) series premiere, 11 p.m., HBO
Comedy Bang! Bang! season-four premiere, 11 p.m., IFC
The Birthday Boys season-two premiere, 11:30 p.m., IFC
Saturday, October 18
Black Dynamite season-two premiere, 10:30 p.m., Adult Swim
Big Driver (Maria Bello revenge drama), 8 p.m., Lifetime
Monday, October 20
American Dad season-11 premiere, 9 p.m., TBS
Wednesday, October 22
The 100 season-two premiere, 9 p.m., CW
Web Therapy season-four premiere, 11 p.m., Showtime
Thursday, October 23
Project Runway season-13 finale, 9 p.m., Lifetime
Newsreaders season-two premiere, 12:00 a.m., Adult Swim
Friday, October 24
Grimm season-four premiere, 9 p.m., NBC
Constantine (comic-book adaptation) series premiere, 10 p.m., NBC
Alpha House season-two premiere, Amazon Prime
Sunday, October 26
Death Comes to Pemberley (Pride and Predjudice sequel) Part One, 9 p.m., PBS
Boardwalk Empire series finale, 9 p.m., HBO 
Monday, October 27
2 Broke Girls season-four premiere, 8 p.m., CBS
Mike Tyson Mysteries (Iron Mike is now animated) series premiere, 10:30 p.m., Adult Swim
Tuesday, October 28
Benched (Happy Endings' Eliza Coupe is a public defender), 10:30 p.m., USA
Degrassi season-14 premiere, 9 p.m., TeenNick
Wednesday, October 29
A Poet in New York (Andrew Davies–written biopic), 8 p.m., BBC America
Thursday, October 30
The Millers season-two premiere, 8:30 p.m., CBS
Two and a Half Men, season-12 premiere, 9 p.m., CBS
The McCarthys series premiere, 9:30 p.m., CBS
Elementary season-three premiere, 10 p.m., CBS
Sunday, November 2
Death Comes to Pemberley Part Two, 9 p.m., PBS
Friday, November 7
MasterChef Junior season-two premiere, 8 p.m., Fox
Sunday, November 9
The Newsroom season-three premiere, 9 p.m., HBO
The Comeback season-two premiere, 10 p.m., HBO
Getting On season-two premiere, 10:30 p.m., HBO
Worricker: Turks and Caicos (Bill Nighy spy sequel, part one), 9 p.m., PBS
Saturday, November 15
The Missing (lost-child thriller) series premiere, 9 p.m., Starz                                                                                                             
Aaliyah: The Princess of R&B (Lifetime's latest unauthorized biopic), 9 p.m., Lifetime 
Sunday, November 16
Worricker: Salting the Battlefield (Bill Nighy spy sequel part two), 9 p.m., PBS
Monday, November 17
State of Affairs series premiere, 10 p.m., NBC
Monday, November 24
Ascension (spaceship drama) series premiere, 9 p.m., SyFy
Friday, November 28
One Child (Harry Potter's Katie Leung does drama) series premiere, SundanceTV
November TBD
Kobe Bryant's Muse full-length documentary, Showtime
Tuesday, December 2
Girlfriends' Guide to Divorce (the first Bravo scripted series, with Janeane Garofolo) series premiere, 10 p.m., Bravo
Sunday, December 7
The Librarians (The Librarian with new friends) series premiere, 8 p.m., TNT
Tuesday, December 9
Sons of Anarchy series finale, 10 p.m., FX
Friday, December 12
Marco Polo (adventure show about the explorer) series premiere, 3:01 a.m. ET, Netflix
Sunday, December 14
Homeland season-four finale, 9 p.m., Showtime
Sunday, December 28
Call the Midwife holiday special, 7:30 p.m., PBS