10 Pop-Culture Questions Answered by Vulture This Week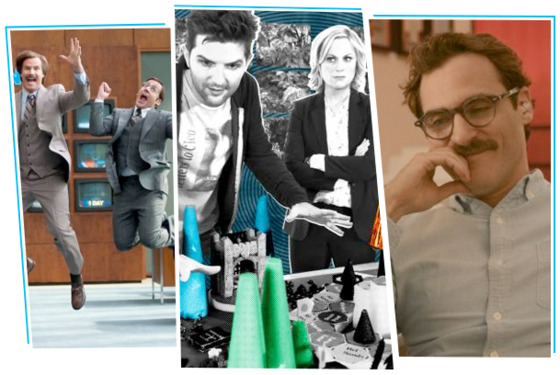 Every week, Vulture faces the big, important questions in entertainment and comes to some creative conclusions. This week we lovingly prepared ten oral histories on some of our favorite micro moments from pop culture, defended Anchorman 2's press tour, and took a minute to process Beyoncé's album. You may have read some of these stories below, but you certainly didn't read them all. We forgive you.
Q: I really loved the elaborate board game, The Cones of Dunshire, that Ben came up with on Parks and Recreation. How did they come up with that idea?
A: We're glad you asked. This week we revisited some of the great moments in pop-culture history by concocting ten micro oral histories with those involved. As detailed in our oral history of The Cones of Dunshire, the producers asked Mayfair Games, the makers of The Settlers of Catan, for help. In terms of TV, we also have capsules on the final montage scene on Six Feet Under; the origin of the evil nerd triumvirate in Buffy the Vampire Slayer, Kristen Johnson's brief but memorable exit in a sixth-season episode of Sex and the City, that time Donna lost her virginity on Beverly Hills 90210, the production of MTV's Undressed, and the mountain lion moment in 24.
Q: How did Beyoncé manage to keep her album a secret?
A: We talked to Bey's creative director, Todd Tourso on exactly how they kept the whole thing under wraps (NSA: take note). But now that our music critic Jody Rosen has gotten a minute to wrap his head around the sheer ambition of Bey's project, he writes, "To paraphrase the poet: Imma let you finish, but Beyoncé just made seventeen of the best videos of all time." And with that, of course, we have the twelve best dance moves from the videos (in tutorial gifs, natch.)
Q: While Beyoncé's album drop had no press tour whatsoever, Anchorman 2 seems to be ALL press tour. What gives?
A: You're not the only one who might be feeling some Ron Burgundy fatigue. But Jesse David Fox defends the campaign, arguing that it's "not some big business onslaught — it's artists fighting to get to make art on their own terms." In his review, David Edelstein writes that the sequel does not "sully the great name of Ron Burgundy."
Q: Who won the year in terms of TV ratings?
A: CBS is still on top, and cable networks like AMC and FX keep getting bigger. Check out our full analysis to see what the richest households watch and the television preferences of dog owners.
Q: What am I supposed to do with my family during the holidays?
A: Um, I don't know, bond or something? Or you can just stream these TV shows.