Photos: Will Ferrell, Christina Applegate, and Paul Rudd on the Set of Anchorman 2
The cast and crew descended on midtown and set the clocks to the Me Decade to shoot the movie's first scene.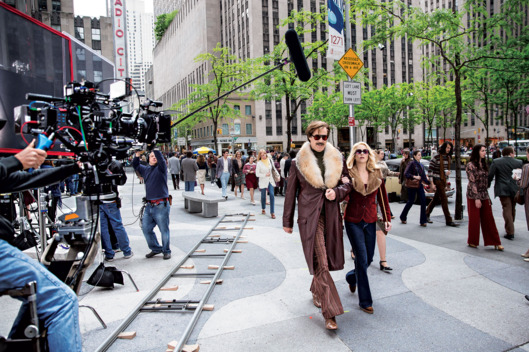 If the De Blasio administration really does send New York back to the seventies, at least we'll have been prepared. In May, the cast and crew of Anchorman 2 (in theaters December 18) descended on midtown and set the clocks to the Me Decade to shoot the movie's first scene—pretty much: "It's Ron Burgundy [Will Ferrell] and Veronica Corningstone [Christina Applegate] walking," says director Adam McKay. "It's the main opening shot of the movie. Well, actually, there's a shot before that of Ron being attacked by a shark."
Shooting with such iconic characters, even in Bloomberg's orderly Manhattan, was no easy task, especially in weekend traffic. "In New York, they don't care about your set security. We had a paparazzi guy walking right past my monitor," recalls McKay. (Photographer Lloyd Bishop, who documented the scene for New York, had permission to be there.) "And the crowds get gigantic. You just felt like you were in this fishbowl."
It's hard to blame pedestrians for being dumbfounded. On the same day as Anchorman 2's shoot, David O. Russell's American Hustle—also set in the late seventies—was filming just a few blocks away, in front of the Plaza Hotel. "It must have been an interesting day to be a tourist there," says McKay. "I actually talked to David; I offered to trade music with him. It's a hard period to find songs from that haven't been used so many times."
*This article originally appeared in the December 23, 2013 issue of New York Magazine.
BEGIN SLIDESHOW