Which Oscar-Season Sad White Guy Is Saddest and Whitest?
Walter Mitty, Llewyn Davis, Captain Phillips?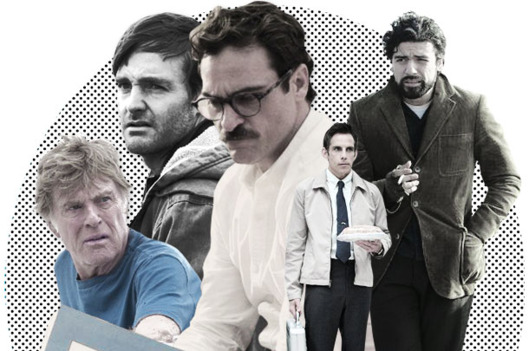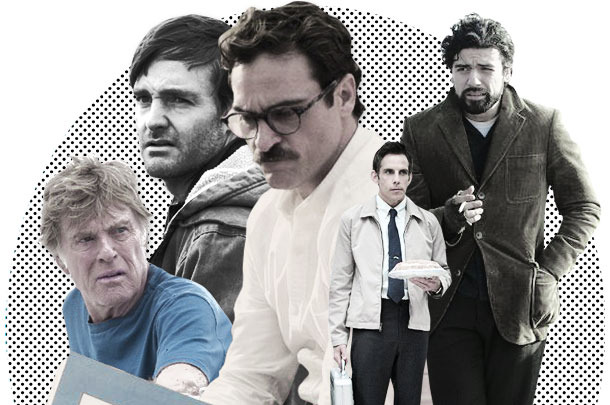 It's awards season, which means that right now, on a movie screen, a white guy is staring longingly and helplessly into the distance. It's nothing new: Sad white guys are a fixture of the Oscars. Les Misérables, Lincoln, Amour, The Tree of Life, Midnight in Paris, Hugo, The Descendants, Toy Story 3, The Fighter, The King's Speech, just to name a recent selection: They all prominently featured white guys down in the dumps about something, whether it was death, drugs, toy-death, or not living during a cool period of Paris. This year has melancholy Caucasians aplenty, so with the Oscar nominations coming tomorrow, we looked at all of the current sad white guys and rated and totaled their sadness and whiteness to determine what we're calling their "Morrissey" score, and listed them from least white/sad to most. To the whiteness! 
Movie: Saving Mr. Banks
Character: Walt Disney
Played by: Tom Hanks
Whiteness: He's Walt Disney, the man who made Song of the South. That was a pretty white-guy thing to do. 4/5
Sadness: The two things that make him saddest are (1) that he might not get to keep his major-motion-picture promise to his daughter, and (2) that he might not get to put animated penguins in his Mary Poppins movie. But he spends most of his time at the happiest place on Earth, which pretty much works as an anti-venom for sadness. He's fine. 0.5/5
Morrissey score = 4.5 
Movie: The Wolf of Wall Street
Character: Jordan Belfort
Played by: Leonardo DiCaprio
Whiteness: Like seemingly every Wall Street crook, Belfort is white — white as the collar of his crimes.  4/5
Sadness: The only time he seems upset is when he can't get more money or drugs. But when he has plenty of either, things to be pretty A-OK.  1/5
Morrissey score = 5
Movie: Captain Phillips
Character: Richard Phillips
Played by: Tom Hanks
Whiteness: Phillips has a Boston accent, which may be the whitest of all accents. 3/5
Sadness: Before the pirates even show up, Phillips misses home. Then the sea-jacking goes down and Phillips fears for his life, the lives of his crew, and even the lives of some of the pirates. And then there's that incredible crying scene. Still, Phillips is a brave, sturdy captain through most of it. 3/5
Morrissey = 6
Movie: American Hustle
Character: Richie DiMaso
Played by: Bradley Cooper
Whiteness: Perm. 3/5
Sadness: In a movie of con men, it's ironically the FBI agent who is trying the hardest to hide who he is. Under layers and layers of bravado and hair curls lies a man depressed by his position in life as a lowly detective, living with his mom in New Jersey.  3.5/5
Morrissey = 6.5 
Movie: All Is Lost
Character: Our Man
Played by: Robert Redford
Whiteness: For many years, Robert Redford was the platonic ideal of "man, white." You'd say, Picture a white guy and the person would instantly envision Redford in a chambray shirt and khakis. Now add in the fact that Redford's All Is Lost character spends his entire time on a yacht. 5/5
Sadness: If the idea of a man alone on a boat isn't sad enough, imagine that boat slowly sinking. And yet, he seems more solution-oriented than sad during the whole ordeal. 1.5/5
Morrissey = 6.5 
Movie: August: Osage County
Character: Little Charles Aikin
Played by: Benedict Cumberbatch
Whiteness: Have you ever looked at Benedict Cumberbatch? If he were any whiter, Jordan Belfort would've snorted him by now. 4/5
Sadness: Little Charles isn't in many scenes, but every time he's on-camera — whether it's getting off the bus or dropping a casserole — it looks like he's about to cry. He's bumbling and insecure and generally looked down upon by the whole family. He has Ivy, but that ends up being ... umm ... problematic. 3/5
Morrissey = 7 
Movie: Nebraska
Character: David Grant
Played by: Will Forte
Whiteness: David lives in Nebraska, which is 90 percent white. Also, the film's use of black and white exaggerates his whiteness to the point that his skin is actually white. 4/5
Sadness: A fortysomething electronics store salesman who's dealing with a predisposition for alcoholism and just lost his girlfriend. He has unresolved daddy issues and a daddy too old and/or too drunk to help him resolve them. 3.5/5
Morrissey = 7.5 
Movie: Inside Llewyn Davis
Character: Llewyn Davis
Played by: Oscar Isaac
Whiteness: He's a sixties folk musician and not Richie Havens: He's probably white. Complexion-wise, however, he is the least white on the list. In the film, it's because his mom was Italian. In real life, Oscar Isaac (born Oscar Isaac Hernández) has a Guatemalan mother and Cuban father. 3/5
Sadness: Llewyn is a classic sad sack. His partner killed himself; he sings songs about getting hanged; no one loves him; he's homeless; he's winter-coat-less; his career is going nowhere and likely never will; he's talented enough to know what genius is and to know he doesn't have it. 4.5/5
Morrissey = 7.5 
Movie: The Secret Life of Walter Mitty
Character: Walter Mitty
Played by: Ben Stiller
Whiteness: He's named Walter. He lives in Harlem, but apparently a Harlem that is mostly white. His most white feature, however, is the privilege of spending all his time wondering if his life lacks adventure. 5/5
Sadness: The movie starts with him balancing his checkbook and failing to send a "wink" on E*Harmony. His profile is blank because nothing interesting has ever happened to him. But the worst part is that he signed up just because he overheard a new girl at his office (Kristen Wiig) say she was on it and he wanted to message her. 4.5/5
Morrissey = 9.5
Movie: Her
Character: Theodore Twombly
Played by: Joaquin Phoenix
Whiteness: A white nerdy early adopter living in a seemingly mostly white future L.A. He wears high-waisted trousers and button-down shirts to the beach. His name is Theodore. Arcade Fire scores his life. This hits every button.  5/5
Sadness: "Play melancholy song" is one of the first things Theodore says. This divorcé is deeply unfulfilled, creatively (he's a writer but he exclusively writes letters for other people), interpersonally (he has one friend, but it appears he spends his nights getting yelled at by his video game), and romantically (besides being very quick to fall for his operating system, Theodore proves desperate even in phone sex). He is profoundly alone. 5/5
Morrissey = 10