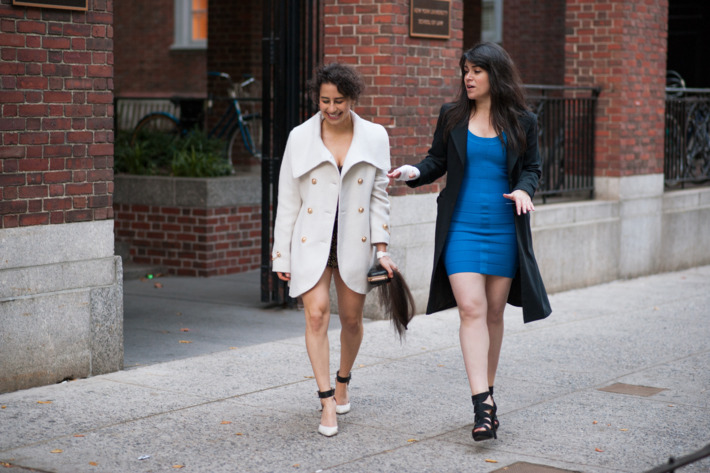 The parents of web stars Abbi Jacobson and Ilana Glazer have already seen their girls do things like smoke pot, disrobe, and poop on-camera (while using rainmakers to poorly camouflage the sound) in the name of comedy. With tonight's debut of their new Comedy Central show, Broad City, loosely based on their lives as two cash-strapped pals living in New York, Jacobson and Glazer tell Vulture it's only going to get worse. (Says Glazer, "How will we possibly embarrass our parents? It's a great question. There's a lot.") Here, they tell us about their favorite supremely awkward-to-watch-with-mom-and-dad scenes from the upcoming first season. (The following is obviously a bit spoiler-y, but this isn't Lost. It'll be okay.)
1. Ilana riding comedian Hannibal Buress. It happens in the very first scene of the premiere, as she multitasks by taking a call from Abbi without breaking rhythm with her sexual partner, Buress. "My, like, bouncing on his penis made me really anxious," Glazer said. "I'm riding him for a long time."
2. Exotic body waxing. They've done on-camera waxing on their web series before, but for Comedy Central, Abbi will have hair removed from new and unexpected places — a scene that was unexpectedly shot with true, painful verisimilitude. "We didn't intentionally want to do it for real, but let's just say the props guys weren't aware of how wax works," said Jacobson. As for why Mom and Pop Jacobson might want to look away: "It's a lot of close-ups on parts of her body," Glazer said. "It starts with places you know get waxed and proceeds to, 'Jeez, she has to wax there?'"
3. A masterful French inhale. Glazer's parents know she smokes pot, but they may not be prepared to see just what kind of fancy expert smoking moves she's perfected. "I know they're going to think about all the smoke that's gone to my brain," she said.
4. Having oral sex performed on them. In multiple episodes. "Yeah, guys going down on us. Oh my God. It's separately, obviously," Jacobson said. There's nothing so graphic about the scenes (again, the show airs on Comedy Central), but their O faces required some focused acting. "The acting and the reacting is like uuuuhhh." Glazer said. "It's just a few seconds, but it makes my toes curl."
5. "A classic ass-crack shot." As in, "somebody does a body shot out of Abbi's ass," Jacobson said. Pretty self-explanatory.
6. "Slutty outfits." When Ilana goes out for a big night on the town, she opts for a crop top revealing "mad cleavage" and a short skirt. "I have big boobs, so it's a thing," Glazer said. "I don't dress like that so much in general, and certainly never in front of my parents, so, you know, just add it to the list."
7. Snorting coke. Of course it wasn't real, but it felt real. "I was doing it the way you really take it, and no one wants to watch their kids do that," Jacobson said.
8. Weird petting. As part of a revenge plan, "Hannibal and I rub objects on our genitals," Glazer said. What kinds of objects? She won't say, but "unfortunately for our parents, we're pretty creative."
9. Stripping down to do chores. The girls answer a pervert's (guest star Fred Armisen) Craigslist ad offering to pay for house-cleaning services done by women in underwear. "We really had to tell ourselves, 'You know what? It's out there. It's for comedy,'" Glazer said. "But it was scary. I guess I'm happy we're on Comedy Central so I don't have to explain why I don't want to do full nudity."
10. The story in the finale that just may kill Abbi's parents. "There's something in the finale that is the one thing that is going to be the most uncomfortable thing my parents are going to have to see," Jacobson said. "I don't want to spoil it, but it's so true to my life, and I'm dying just thinking about it." Don't forget to set those DVRs, Mr. and Mrs. Jacobson.