The Fantastic Four Reboot Script Is Ready to Go
Actor tests start at the end of the month.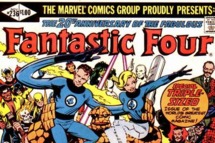 For those of you still emotionally invested in the 2005 version of The Fantastic Four, now is the time to turn away: The new FF reboot script has been completed. As rumored, director Josh Trank will likely direct Simon Kinberg's screenplay, and actors are lined up to audition. Michael B. Jordan is already attached to portrayed Johnny Storm, Miles Teller will allegedly audition for Mr. Fantastic, and Kate Mara and Saoirse Ronan are both rumored to test for Sue Storm. As for the Thing … well, who is Generation Y's Michael Chiklis? Would someone finally tell us the identity of Generation Y's Michael Chiklis? Once we know that, there's no stopping this reboot train from speeding into the station.