Fitz and Mellie's Kids Coming to Scandal
Those poor children.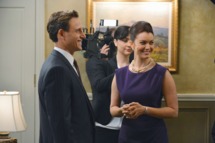 Scandal is looking to cast teen actors to play Jerry and Karen Grant, Fitz and Mellie's two kids who've been off at boarding school this whole time. TVLine reports that the little Grants will appear on the fifteenth episode of the season, which is currently scheduled to air at the end of March. Jerry is described as "quiet, smart and intense," and Karen is "polished, self-assured and older than her years." Meanwhile, baby Teddy is still largely absent, though every once in a while when he pops up he looks a little bit like Pubert, the baby from Addams Family Values.