Fox Confirms Glee Will Be Set Exclusively in NYC
At least for the rest of this season.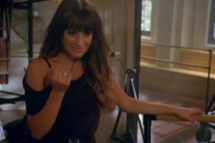 Addressing rumors that had been circling for months, Fox entertainment chairmen Kevin Reilly confirmed that the rest of the fifth season of Glee will be set in New York, where Rachel, Kurt, and Santana are currently chasing their dreams. "Some are going to be graduating and moving; creatively, it would be ridiculous that everybody moves to New York," Reilly said with regard to which other characters would make the geographical transition. Is there any conceivable way Coach Sue could win some sort of tracksuit sweepstakes and decide to coach the cheerleading team at, let's say, LaGuardia? That's not impossible, is it?