Garrett Hedlund Lands Hook in Joe Wright's Pan
As Hook, you say? Alright.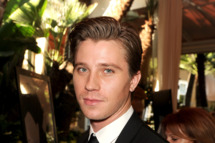 Inside Llewyn Davis actor Garrett Hedlund has been offered the role of Hook in director Joe Wright's Peter Pan reboot, but don't worry if he seems like an odd choice. The reimagined captain is allegedly Peter's buddy, as the film is something of a prequel. Meanwhile, Hugh Jackman is rumored for the film's actual villain, Blackbeard. Maybe Hedlund is the right pirate captain for today's generation. If you ask us, however, it's a fabulously over-the-top Dustin Hoffman snarling at children in a curly wig and tricorn hat, or no Hook at all.