Glenn Close Cast As Faux Anastasia in Duchess
But wait, there's more!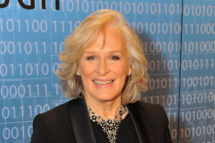 This is how the person who first combined peanut butter, chocolate, and bananas must have felt. According to Deadline, Glenn Close has been cast as Anna Anderson, famed impostor of Duchess Anastasia of Russia, in Duchess. The film, described as a "dark road-trip comedy" and based on real events, depicts Anderson's escape from an American retirement home in 1983 and her subsequent exploits in rural Virginia with husband Jack Manahan. You had us at "Glenn Close," then again at "famous impostor," and then for a third, fourth, and fifth time at "dark road-trip comedy."