HBO to Remake French Porn-Industry Comedy
Entitled <em>Hard</em>.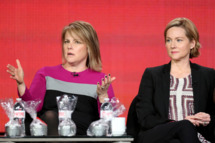 Who better to craft a plethora of double entendres then an alumna of Sex And The City? Writer and producer Jenny Bicks, also of The Big C and Men in Trees, will adapt the dark French comedy Hard, which might technically qualify as a single entendre. The HBO show will follow a "Brentwood housewife who inherits her husband's failing porn company." Finally, a chance to use all those SATC one-liners that had to be cut for time. Let no cunnilingus pun go unused, we always say.