Hotel Rwanda Writer to Pen Mother Teresa Biopic
Entitled <em>I Thirst</em>.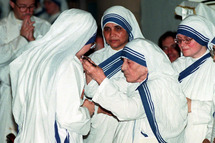 Hotel Rwanda screenwriter Keir Pearson must be very pleased that he got tapped to write the Mother Teresa biopic I Thirst, and we're all proud of him, but let's cut to the chase: Who is going to portray Mother Teresa? Who can you see as a deeply religious Albanian Nobel Peace Prize recipient? Of course, casting will depend on the tone of the film. Sir Richard Attenborough directed what most consider the definitive Mother Teresa film, but there is still plenty of room for interpretation.