Jaime Pressly's Jennifer Falls Pilot Picked Up
Are all sitcom protagonists living with their parents now?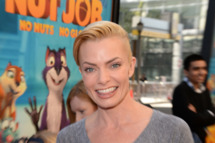 From The Millers to the late How to Live with Your Parents (for the Rest of Your Life), sitcom protagonists sure move back in with their moms a lot. Such is the plot of the Jaime Pressly pilot just picked up by TV Land. As the lead in Jennifer Falls, Pressly plays a woman who must move herself and her teenage daughter back to her mother's house "after being let go from her high-powered, six-figure-salary job." Pressly still has a lot of goodwill stored up from her My Name is Earl days, but let's mix it up a little bit, networks. Maybe a high-powered business woman has to move back into her childhood treehouse or an abandoned ice cream truck? We're just spitballing here.