Judd Apatow Likes Working for The Simpsons
Homer gets hypnotized in the episode he wrote. Fun!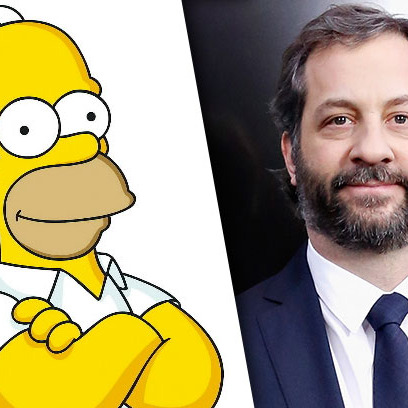 In 2012, Judd Apatow revealed that The Simpsons will produce a spec script he wrote 30 years ago, when he was first getting started. Well, today, in anticipation of appearing as himself on this Sunday's episode, he spoke with EW about it. The plot: "The family goes to a hypnotism show and the hypnotist has a heart [attack]. But at the show, he made Homer think he was 10 years old so they have to leave the show with Homer thinking he's 10. It's about Bart and Homer becoming best friends because they're the same age, and then Homer doesn't want to be revived because he'd rather be 10 than have adult responsibility." (It sounds a bit like the classic season-twelve episode "HOMR," but a bit more Apatowian, in its man-child focus.) He explained that he will be part of the rewriting process, offering notes and input after the staff does their rewrites. Adding that the changes the staff has already made "blew [his] mind" and that "we never should take The Simpsons for granted. It really sets the bar for everybody." "Don't take The Simpsons for granted" is a good and achievable resolution.