Kiefer Sutherland, 24's Returning Action Star, Will Wait You Out
The star of <em>24</em> fondly remembers when the show was small but looks forward to new and exciting explosions.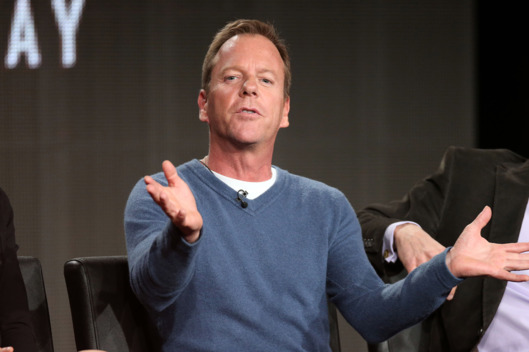 Kiefer Sutherland may have tabled his mission to bring 24 to the big screen, but he's never, ever going to give it up for good. "I stopped pushing for that," he told me over bar snacks last week in Pasadena, where the actor had come to promote Fox's upcoming series resurrection of relentlessly sleep-deprived federal agent Jack Bauer. "I just got so tired of saying it was going to happen because someone told me it was going to happen — and then I'd find out that they had no intention of doing it." But as he prepared to fly to London to begin production on 24: Live Another Day, the twelve-episode season that arrives May 5, he sounded pretty bummed discussing the aborted film when Vulture brought up the subject. "It's not like it's my property," Sutherland continued slowly. "I can't go, 'Okay, fine. You don't want to make it? I'll go to Universal. They'll make it.' It's kind of locked where it is." The 47-year-old actor exhaled again and looked out the window, and then he smiled. "But people come and go," he said, "I can wait it out. It can always happen."
While he waits patiently for naysaying movie execs to rise and fall, Sutherland will have to settle for Jack merely returning to TV after a four-year break. Not that he's been in need of work: Since the show wrapped in 2010, Sutherland has done lots of high-profile stuff, including Lars von Trier's Melancholia, Fox's Touch, Broadway's The Championship Season, and the Kit Harrington gladiator drama Pompei (out next month). But his love for his tortured and torturing alter ego runs deep. "It's almost mystical the way he loves and understands the character," 24 executive producer Howard Gordon told me later, confirming what Sutherland had seen as a call to action when Gordon asked if he wanted to do more counterterrorizing. Said Sutherland: "It was a five-minute conversation to end the show — Howard was exhausted, and I wasn't doing it without him — and it was a five-minute conversation to bring it back."
I asked Sutherland if he remembers the beginning of the show, how much smaller the stakes were then, and if it was possible to get back to something like that. During that first day, Jack was fighting bureaucracy and hiding an affair; eight seasons later, he's tractor-flipping his enemies and breaking the necks of others between his legs. Not everyone was a fan of those final seasons where the action had been ratcheted up so high that most of it was implausible. Sutherland laughed, because he's been working out for the past five months to avoid coming back as "Old Jack Bauer." "As one gets older, you start to panic about these things," he said. But to the point, he said, he does remember those early seasons quite fondly.
"Remember that episode in the first season when Jack was held up in that little construction shack because he can't get outside? The whole episode, he's in there. It was awesome," he recalled. "Later on, Howard and I used to sit and drink and go, 'I remember when it was small, man. When we were doing the drama, the stuff that made people feel.' We'd lament over that, and by the end of it, we'd be like, 'So, we're gonna blow up that family, right?' 'Yeah. Probably. I can't think of anything else to do.' It made me laugh."
"But just because we're starting out big this time, it doesn't mean that it can't descend into something really intimate and heavy," Sutherland continued. "The desire, especially this time, is to get back to that very personal first season."