Lindsay Lohan Announces New Thriller Inconceivable
Don't call it a comeback.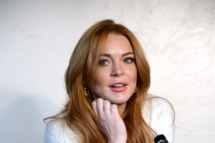 Riding high off that Razzie nom, Lindsay Lohan stopped by Sundance today for a quick press conference announcing her involvement with Emmett/Furla Films' upcoming "psychological thriller" Inconceivable. Lohan will both star in and produce the movie, which the company hopes will land a limited theatrical release before heading to DVD and video-on-demand. As always, we remain ready for your glorious rebirth, Lindsay. Just keep us posted.