NBC Orders Rob Lowe Sitcom The Pro
It takes place "in and around a tennis and golf club."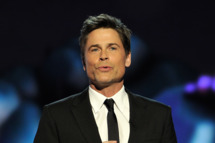 In what must be literally the most exciting sitcom news today, NBC has ordered Rob Lowe's single-cam The Pro to pilot. According to the show's logline, "Lowe stars as a former doubles champion who is reunited with his ex-partner after a public feud that left them both floundering in life." A faded tennis star! What a great use of Lowe's excellent physique, superb comedic timing and underlying current of sinewy desperation.