The Outkast Coachella Reunion Is Happening
Dreams do come true.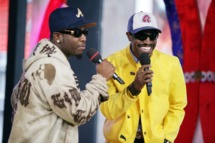 We suggest you make like a stallion horse with skates on if you plan to get Coachella tickets, because Outkast is reuniting at the festival after all. Andre 3000 and Big Boi will co-headline with Muse and Arcade Fire on the weekends of April 11 and April 18. You can check out the entire lineup here, but really, you have all the information you need.