Rumored New Couple Alert: Courtney Love and Aaron Sorkin
This is great (even if it's not true).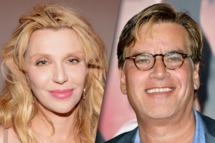 Sorkin's rep denies it, so don't get too attached to this rumor, but: "Page Six" claims that Aaron Sorkin and Courtney Love have found love at the Chateau Marmont. They've been seeing each other for a couple of months, according to the paper, and Courtney "likens them to Marilyn Monroe and Arthur Miller." That is just a great sentence. Also, just imagine the Newsroom version of Courtney Love. Cast Real Courtney Love, please!