Zoe Saldana to Star in Rosemary's Baby Miniseries
Sadly, the version is set in Paris, not future-space.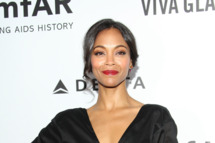 Last month, the news came out that NBC is working on a Rosemary's Baby miniseries set in Paris. Today, NBC announced that they've found their Rosemary: Zoe Saldana. It's an interesting move for Saldana, a film actress who has been in a few huge movies (namely Avatar and the two latest Star Trek films) — though she often finds herself in smaller, supporting roles, which this part definitely is not. Time will tell whether she'll be more of a Mia Farrow or Don Draper Rosemary?