Jennifer Saunders Is Going to Start Writing That Absolutely Fabulous Movie Now
"Well, I have to do it now because I've threatened to a lot."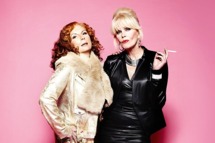 After threatening to write the Absolutely Fabulous movie for some time now, co-star and creator Jennifer Saunders said during an appearance on The Jonathan Ross Show that she is actually going to start writing the screenplay. Saunders explained that she hasn't started yet because she's the "worst procrastinator in the world" (fair, considering it was 2011 when we last spoke of an AbFab film) but also due to "second album syndrome." "Once you've had a bit of success, the last thing you want to do is go and make a flop. So the biggest fear in me is that it won't be good enough. I'm really nervous about it," Saunders said. We hear a stiff drink or seven can do wonders to calm the nerves, sweetie darling.