Stevie Wonder Will Perform With Daft Punk at the Grammys
Nile Rodgers and Pharrell will be there too.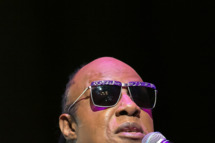 In addition to Nile Rodgers, Pharrell, and all the Random Access Memories session players, Stevie Wonder will be on hand for Daft Punk's Grammy performance. Great! Related: Is anyone taking bets on a Stephen Colbert cameo? We'd put at least five Internet dollars on it.