True Detective HBO's Best Premiere Since 2010
<em>Girls </em>also raked 'em in last night.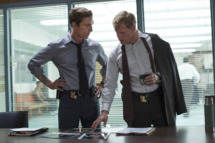 Matthew McConaughey was a double winner Sunday: The actor's new HBO drama True Detective gave the network its most-watched series premiere since 2010's Boardwalk Empire. Per Nielsen, 2.3 million viewers caught the initial play of True, a tick more than the 2.2 million who watched the very first Game of Thrones and the 2.1 million who showed up for the premiere of The Newsroom. It's a particularly nice debut given the fact that True went head-to-head with the Golden Globes. And even more people will watch the show via future replays and HBO's on-demand platforms; as it is, another 1 million folks watched an 11 p.m. encore. Meanwhile, Girls got a boost from True: Its season-three premiere drew 1.1 million viewers, making it the biggest debut in the show's history and a gain of 27 percent over last year's bow. Apparently plenty of folks have absolutely no issue with Lena Dunham's nudity.