Zach Braff and Mitt Romney Hung Out on a Plane
Together at last.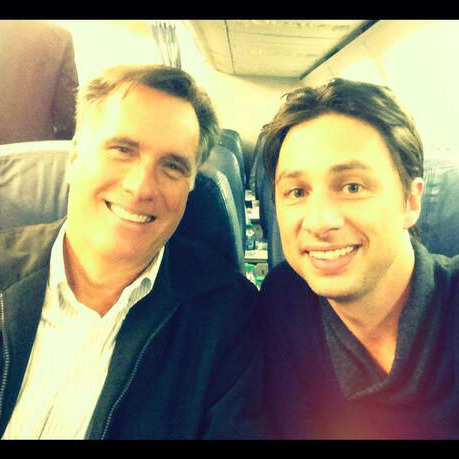 After tweeting at Mitt Romney about his impending flight from JFK to Salt Lake City, Zach Braff immediately ran into the erstwhile Republican presidential nominee on the plane. It was an excellent guess on Braff's part, as both the Mitt Romney documentary and Braff's Wish I Was Here are debuting at Sundance. Also, Utah is where Mitt Romney keeps all of his belongings and loved ones, so it stands to reason he would travel there at some point.

The two subsequently laughed and talked and made Hunger Games references and became the best of friends. Mitt even promised to come see Zach's movie at Sundance. Seatmates forever.
Seat Mates: pic.twitter.com/kq4WfzVZNM

— Zach Braff (@zachbraff) January 25, 2014
.@zachbraff may the odds be ever in your favor. pic.twitter.com/7YzQwIeHaA

— Mitt Romney (@MittRomney) January 25, 2014
LIFE LESSON: our politics are quite different, but @MittRomney and I are having the best conversation ever. Very cool dude.

— Zach Braff (@zachbraff) January 25, 2014