30 Rock's Katrina Bowden Snags Lead in TNT Drama
Across from Ed Burns.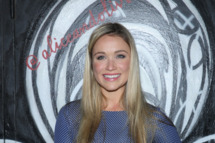 According to Variety, 30 Rock's Katrina Bowden has landed the female lead across from Ed Burns on TNT's period cop drama pilot Public Morals. We're glad Bowden has finally landed herself a juicy role, though the character description for her part would undoubtedly make Liz Lemon's ocular muscles spasm and eject her eyeballs: "a seemingly sweet and innocent prostitute with street smart edge." For the love of all that is holy, please let Ed Burns's character be named Steven Morals and bring this thing home. Let life imitate the art that was 30 Rock.