Best of Netflix, Amazon, and Hulu Streaming: Airplane Movies
You can watch these airplane-related films online nonstop.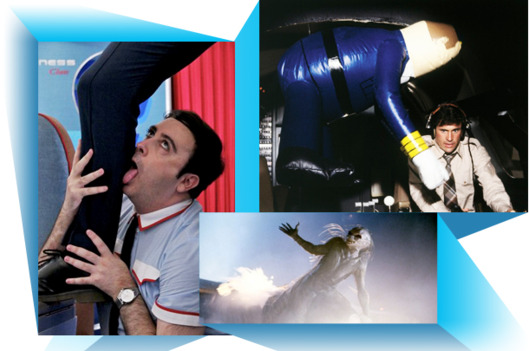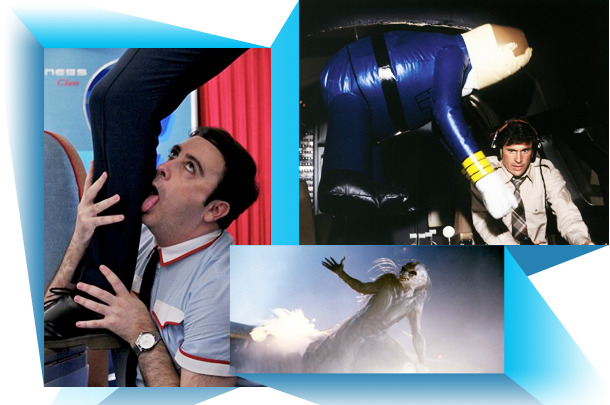 This weekend, as you search for a movie to watch, you can either go see Non-Stop or pick one of approximately 14 billion options available on streaming over a variety of services, be it Netflix, Hulu, Amazon, On Demand, or other sites. Every Friday, Vulture tries to make life easier by narrowing it down to a handful of heartily recommended options. This week, we've booked tickets for an airplane-themed comedy, musical, docudrama, and horror anthology.
I'm So Excited (2013)
Pedro Almodóvar's latest was criminally overlooked last year — not that it was easy to market to the masses. A sex romp with hints of Jean-Paul Sartre, I'm So Excited provokes an eclectic ensemble's carnal instincts by putting a flight from Spain to Mexico in dire straits. When the plane's landing gear won't engage, the bisexual pilots, gay flight attendants, a newly married couple, a legendary actress, and a sex-hungry virgin intertwine for a series of professions, encounters, and Pointer Sister musical numbers. Swinging from the opposite end of the spectrum of The Skin I Live In, Almodóvar lets his freak flag fly in a comedy that American studios wouldn't touch with a ten-foot pole. (Rent on iTunes, VUDU, Amazon, Xbox, YouTube, Google Play)
United 93 (2006)
If you do happen to catch Non-Stop this weekend, you'll discover a number of thinly veiled allusions to United Airlines Flight 93, the plane hijacked by Al Qaeda on September 11 that went down in rural Pennsylvania. The references are ... a little uncomfortable. Non-Stop goes out of its way to politicize the tragic event, a misstep that recalls Captain Philips director Paul Greengrass's humanist take from 2006. United 93 is not a rousing entertainment; it's necessary entertainment. The film is reasonably straightforward, taking us into the documented events with absolute verisimilitude and no trace of Hollywood (Greengrass wisely avoided hiring name actors for the film). Inside the cabin, Greengrass discovers hope — despite all the butting heads in America, people can come together to do something truly heroic. There's no good time to sit down and watch United 93, but the empathetic experience is a must. (Stream on Netflix, Rent on iTunes, VUDU, Amazon, Xbox)
Twilight Zone: The Movie (1983)
In 1983, John Landis, Steven Spielberg, Joe Dante, and George Miller combined power rings to polish Rod Serling's classic TV show for a new generation. Today, actor Vic Morrow's tragic death on the set of Landis's segment overshadows the quality of the quartet's anthological remake, a mixed bag that justifies its existence with each passing segment. Miller's remake of "Nightmare at 20,000 Feet" caps the film with a spine-tingling elegance we don't find in modern horror but defined the Serling's show. Slick and terrifying, a claustrophobic nightmare that sends John Lithgow flailing in every direction. Finding the old Twilight Zone episodes has never been easier, but Twilight Zone: The Movie is worth it just as a realized "What If?" for four legendary directors. (Rent on iTunes, VUDU, Amazon, Xbox)
Airplane! (1980)
Have we come to a consensus that Jim Abrahams, David Zucker, and Jerry Zucker's disaster spoof is the funniest movie of all time, or are there still other contenders? We're all ears! Airplane! is one of the few comedies — even today, in the era of Judd Apatow's character-first philosophy — that meticulously constructs a deluge of jokes while leaving room for a seasoned cast to deliver real performances. As Leslie Nielsen and Lloyd Bridges blow past their dramatic pasts, Robert Hays rolls every '70s war-hero trope into Ted Striker, who can couple a PTSD-laden monologue with a Saturday Night Fever dance sequence. Sublime. For fans of the movie, try a double feature of Airplane! and Zero Hour! (available on Vudu), the movie Abrahams and the Zuckers ripped on nearly beat for beat. (Stream on Netflix, Rent on iTunes, VUDU, Amazon, Xbox)
Executive Decision (Rent on iTunes, VUDU, Amazon, Xbox)
Flight (Netflix, Amazon Prime)
The Great Waldo Pepper (Netflix)
Thirty Seconds Over Tokyo (Rent on iTunes, VUDU, Amazon)
Those Magnificent Men in Their Flying Machines (Xbox)
Turbulent Skies (Hulu)